MONTANA FISHING & HUNTING GUIDES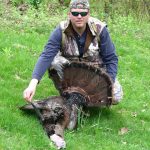 Rodney Disbrow- Lic #7294
Rodney, originally from Upstate New York has lived in South Western Montana for over 17 years. He returns to New York State each spring to guide turkey hunts in the area he grew up. Having been a part of the S&W Team for nearly 14 years, guiding for archery and rifle hunts, he shows his experience and dedication each season. Rodney knows all aspects of the S&W operation and is very much an asset to each client that hunts with him.
---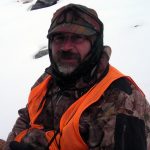 Frank Saile-AKA " Kipp " Lic #9735
First guiding with Kipp in the 2001 season it was imprint that we would spend many years working together. Now residing in the Paradise Valley with his family he is still a major part of the S&W Team. Running a horse pack operation in Yellowstone National Park shows his passion for the outdoors, horses, and elk. As one of the main guides in the Wolf Creek Camp, Kipp's skills and success are proven in each season. Running high success rates, keeping it safe, fun, and making life friends along the way are just a few of his goals for the Wolf Creek Camp. Check out Kipps Yellowstone National Parks horse pack trips @ Rockin HK
---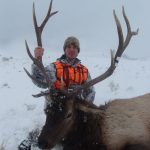 John Hall- Lic #8003
A is a solid member of the S&W team in the East Fork Camp. Arriving on board in 2005, John has proven himself as a guide for all clients. Guiding fishing, hunting and residing in SW Montana for many years he shows the knowledge of what it takes to do the job right. He has made the team in the East Fork Camp a solid experience for each hunter that joins us there. We are looking forward to a long guiding relation with him.
---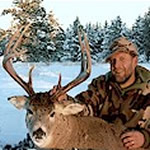 Craig Krzycki- Lic #6737
The oldest member to the S&W team but yet one of the youngest, Craig has been a part of the operation since 1995. He has seen it all, guiding from each area of the operation over his tour, he is as experienced as they come. Craig runs Montana Antler, as an antler artist he is very passionate about the great outdoors. He spends most of his time hunting, fishing, and more hunting need we say more. He is a main staple in the East Fork Camp, guiding Deer & Antelope hunters.
---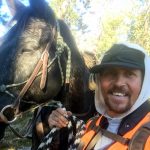 Brad Hanzel- Lic #2113
Brad is S&W Outfitters, Inc. Born and raised in Lewistown, MT he is now living in the mountains of Big Sky, MT. Guiding for over 24 years Brad has gained the respect in this industry by clients, guides, land owners, and general hunting public. Look for growth in this fine company as Brad is always looking for better ways to manage our game, and provide the clients better service and more to offer. Brad feels you can get more for less choosing S&W Outfitters as your hunting & fishing connection. With his experience and that of the S&W Team they are sure to offer you a safe memorable hunt or fishing trip. Email Brad.
---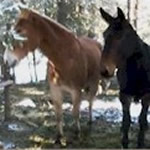 "Honey" & "Burt"
These two fit right in with the demand it takes to be a part of the back country transportation team. The live stock is with out a doubt amazing. The strength, manors, and work ethics of these animals will impress any one with or without much experience. Broke for trail riding and packing, all our stock is very well experienced as they spend their summers doing trail rides and working in the Greater Yellowstone Area. Quality gear is provided for you and our team. We welcome them to this already solid crew here at S&W Outfitters, Inc.
We also want to thank Big Sky Horse Leasing for their stock each year. These guys offer the best and can't be beat to work with. "A Tip of Our Hat to You"
---

Kurt Lawrence – Lic#17883
---

Ryan Kitts – Lic #7769