GUIDED MONTANA HUNTING TRIPS
At S&W Outfitters, Inc. we choose to offer you the best we can. Our guided hunting trips are 100% fair chase, with no games, fences, or guaranteed kills. All hunts are fully guided and include transportation from the nearest major airport, in field transportation, in field care of game, guide service, hot and hearty meals with warm, dry cabins and wall tents.
Game processing, taxidermy work and any shipping can be arranged by the outfitter at the hunter's expense.
Our Montana licensed guides give 100% to insure that you have a safe, successful and enjoyable outdoor experience during your stay with us.
S&W Outfitters, Inc. is licensed under the Montana Department of Commerce, Montana Board of Outfitters (Lic.#2113) and follow all game laws set by the Montana Fish, Wildlife, and Parks.
OUR MONTANA HUNTING CAMPS
WOLF CREEK HUNTING CAMP: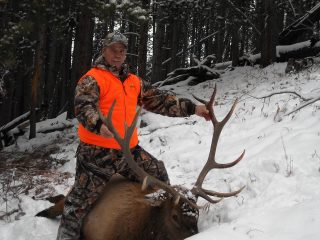 This is in one word "Majestic". Located in prime elk country on the front of the Madison range, lies our Wolf Creek Camp, here we run high success rates for rifle elk hunters. For over 30 years we have been permitted on these Forest service and State lands, knowing this area has proven success. Hunting for Elk, Mule Deer, and our base camp for Mountain Goat, Wolf Creek is without a doubt a rewarding experience.
The means of transportation from the trail head to camp and throughout the hunt is by horseback. Excellent mules and horses along with quality saddle, seaboard, and tack are provided.
Quality gear from tents and stoves to cots, pads and pillows are flown in by chopper along with all the feed to keep you and your steed happy and strong during the hunt. This also provides a low impact on the land.
The elevation varies from 6,000 feet to 10,000 feet with very steep mountains and large valleys to open peaks and slopes, timbered ridges and canyons.
From the guides and the horses to the equipment and food along with this hunting area we offer the hunter opportunity.
EAST FORK HUNTING CAMP: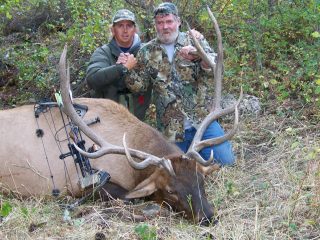 Our rifle and archery hunts for Mule Deer, Whitetail, Antelope, Bear, and Elk are conducted in the heart of Central Montana. Here in the Big Snowy Mountains on several private ranches and State leased lands, totaling over 50,000 acres, is the East Fork Camp.
Having exclusive hunting privileges in this area for years has given us the opportunity to run very successful hunts. We consistently produce success rates of 85-100 percent on quality animals. Archery deer, antelope, and elk averages 20-30 percent each year.
The elevation varies from 4,000 feet to 6,200 feet depending on the game hunted. The terrain varies from bushy rolling hills and flat prairie land to aspen and pine covered mountains.
Hunting is done by foot and four 4wheel drive vehicle. Still hunting, glassing, stalking, tree stands, and many forms of calling are used depending on time of year and species hunted. Hot hearty meals, transportation from airport and return, and lodging are all included in this camp.
TIPI SPIKE CAMP: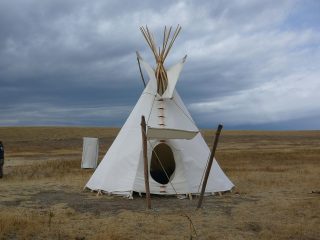 For several years S&W has been hunting antelope with archery equipment. Hunting Antelope during the rut in September has proven successful. Using antelope decoys and blind hunting, this hunt is a specialty our company offers. Recently on the outdoor channel with Chuck Sykes of the Management Advantage, we were able to show our professionalism and knowledge of this unique animal. The camp, located in South Central Montana, puts us right in the prime hunting area without a long drive. The Tipis used speak for themselves, as they are comfortable and unique to this already special hunt. Ask about more information about this hunt and others we offer.
Our Hunts
Our Hunts Are The Best. Period.
Elk (Archery/Rifle), Whitetail Deer (Archery/Rifle), Mule Deer (Archery/Rifle), Antelope (Archery/Rifle), Mountain Goat, Bear, and Gray Wolf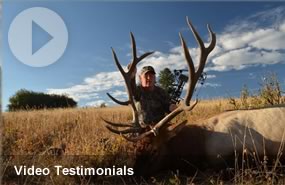 Our Camps
Montana Hunting Camps
Wolf Creek Camp: Elk, Mule Deer, Gray Wolf
East Fork Camp: Elk, Deer, Antelope, Bear
Tipi Spike Camp: Unique and extreme archery hunt for antelope