MONTANA GUIDED FLY FISHING TRIPS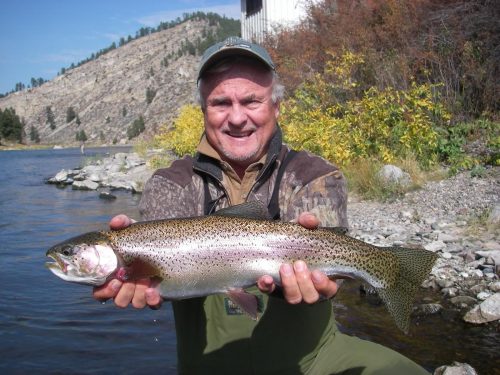 When you are looking for a fly fishing experience that will last a life time, let S&W Outfitters be your first call. Some of the best fly fishing the world has to offer is right here in Southwestern Montana, where Brad Hanzel and his guides can help you to experience the thrill. Giving you fishing opportunity at its best on legendary waters such as the Madison, Yellowstone, and Missouri Rivers, we specialize in half and full day fly fishing trips. We offer the classic Drift Boat and Walk Wade trips, to the unique and unforgettable Jet Boat tours for large Rainbow Trout on the famous Missouri, Gulper fishing on scenic Hebgen Lake, or seeking out large Brown Trout on the Stone. For fly fishing at is best choose us as your local connection. Whether it is your first time fly fishing or you are an experienced angler we can cater a trip for you and your group. It is never too late, call to set up your appointment with Mr. Fish…
Brad Hanzel of S&W Outfitters has been fishing Montana for over 35 years. He has found a passion for fly fishing for trout, and he has mastered his skills to teach you to do the same. Spending over 20 years on some of the world's best trout waters, the Gallatin River, Madison River, Missouri River, and Yellowstone River watersheds to name a few, Brad has developed the skills and area knowledge to show you a time not to be forgotten.
From the most experienced fly fisherman to a first time angler, Brad and his crew will show you the tricks of this trade and get you hooked on catching your own trout with a fly rod in hand. From matching the hatch and learning the river's entomology, to learning the mechanics of your cast and applying the proper drift, Brad is a guide for all anglers, not to mention the information overload you may receive during your fishing experience.
Bookings can be made through S&W Outfitters, Inc.. You may contact Brad directly to discuss any questions you may have. We can handle groups of four to six people and equip them all, head to fish. Everything from Casting Clinics, Walk Wade, and Full Day Floats are available to you and your group.
Call Brad direct: 406-640-1673, Outfitter Lic.#2113. Let Brad and our team be your Montana fishing connection.
Visit the Montana Fish, Wildlife & Parks web site for your Fishing Licenses.
S&W OUTFITTERS FISHING PHOTOS AND SEASON INFORMATION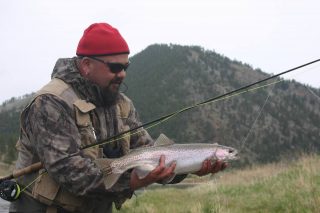 Winter/Spring Fishing
March through May is the starting gate of a new fly fishing season. With the days getting longer and temperatures on the rise, the trout fishing is also warming up. Spring Batis, PMDs, and Midge hatches can be abundant on the overcast days giving great dry fly fishing opportunities. Rainbow Trout are concentrating in areas to peak in their spring spawn as the Brown Trout follow them. Fly fishing spring creeks such as Depuy's and tail water fisheries such as the Missouri and the Madison can produce an unreal number of hook ups on large rainbow trout and brown trout. Our specialty, Jet Boat fly fishing trips on the Missouri River, will impress any angler and land you many fish of a life time. Whether you are taking a break form the skiing or looking to schedule a destination trip to explore these great waters S&W Outfitters can guide you to a great experience.
June Fishing
High water is here and stone flies are migrating to the banks. This is a great opportunity to use a guide to get you to hard to get in to honey holes, using both jet boats and drift boats give you the advantage. Spring creeks and tail water fisheries are low in people numbers but high in rainbow trout and brown trout encounters. Nymphing is the main technique used for this early summer fly fishing. Our guides will clue you into understanding and improving your nymphing skills and help you bring many fish to the net. Lake fishing is not to be over looked this quiet time of year. This is also an important time to book your summer fly fishing adventures with us, don't miss out; call early to reserve your fly fishing days.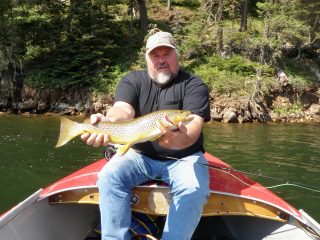 July Fishing
"Fish On!" Summer hatches are in full swing with many Caddis, May Flies, and Stones becoming abundant. The summer season is here with long warm days and lots of places to choose to fly fish. The early morning gulpers are feeding strong on our local lakes, and the Yellowstone River is back from its spring water run off and can offer some epic days for big fish. The Madison River is fishing great and consistent with many hatches through out the day. Both nymphing and dry fly fishing opportunities exist. Call for availability its never to late to get on the river.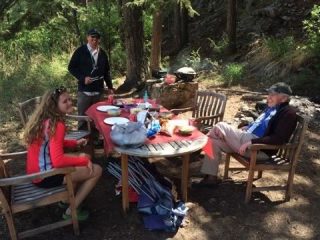 August Fishing
The heart of the summer brings hot days on the river along with lots of terrestrials. Its Hopper Time! Beetles, ants and hoppers are a main food for the trout you seek. Our beautiful scenic river system is home to more than just trout, most trips encounter lots of eagles and osprey, deer and elk, even merium turkeys or an occasional bear can be seen on your day trip. Dry fly fishing opportunities on all our waters including Hebgen and Ennis Lake, the Upper Madison, Missouri, and Yellowstone Rivers are all at their peak for top water action. Remember summer fly fishing brings fun for the whole family, including learning the life long skill of fly fishing.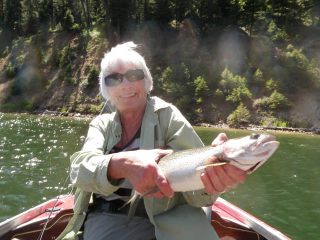 September Fishing
The first signs of fall start to appear. With frosty mornings and cooler nights, leaves start there autumn colors. We're off to Central Montana for archery elk hunting and the world famous Big Spring Creek. This Blue Ribbon Trout stream is host to lots of good fishing opportunities with fly rod in hand. If you are just in the area or would like to make this a destination fishing trip, we can help with lodging and other special arrangements. Both half and full day trips are available. Fall Batis and emerger fishing is best for this spectacular time of year. Bookings for South Western Montana are also welcome and suggest making early arrangements.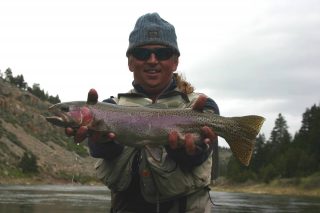 Late Fall Fishing
October is hot! This is a great time to hook up during your hunting adventure. The fall spawning rainbows and browns are abundant. If you know where to go and what to throw, you will be blown away at the quality of fishing this time of year has to offer. Whether it be before or after your guided hunting trip with us or a destination just for big rainbow trout and brown trout, don't hesitate to book your trip. Snow will soon be falling and another season will come to an end.